Inferno Metal Festival tickets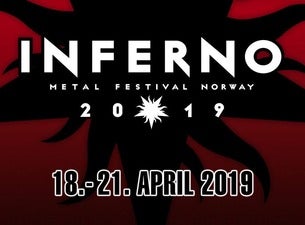 Rockefeller Music Hall
Lineup: EMPEROR – SATYRICON - OBITUARY – ELECTRIC WIZARD – IHSAHN – CARPATHIAN FOREST - DARK FUNERAL – KATATONIA – NAPALM DEATH – FLESHGOD APOCALYPSE – TSJUDER – MEMORIAM – NAGLFAR – ORIGIN – GRAVE – ONE TAIL, ONE HEAD – NECROPHOBIC – KRAKOW – ODIUM – NORDJEVEL – AUÐN – DJEVEL – MEPHORASH – AHAB – SCHAMMASCH – SINISTRO – NAÐRA – EARTH ELECTRIC – VANHELGD – UADA – DODECAHEDRON – WIEGEDOOD – ERIMHA – ULSECT - BLACKTÖÖTH
Inferno Metal Festival: THE INFERNO METAL FESTIVAL has become a true black Easter tradition for metal fans, bands and music industry from all over the world with around 40 concerts every year since the start back in 2001.
The festival offers exclusive concerts in unique surroundings with some of the best extreme metal and experimental artists in the world, from new underground acts to the legendary giants.
At INFERNO you meet up with fellow metalheads for four days of head banging, party, expos, horror films, art exhibitions and all the unholy treats your dark heart desires.
INFERNO METAL FESTIVAL invites you all to the annual black Easter gathering of metal, gore and extreme in Oslo, Norway from March 29. to April 1. 2018.
Official Festival Hotel: Scandic St. Olavs Plass is the official festival hotel. Book your room at festival prices and take part of the full festival experience.
At the hotel you will have stands, DJ's, pre and after parties, our music conference, beer tastings and more.
Web:
www.scandichotels.no
Use booking code:
BINF250318
PS: Remember to enter the booking code before searching for an available room or else it will list all rooms sold as all the rooms are reserved for festival use.
For more concerts and events at Rockefeller Music Hall go to
www.rockefeller.no
Inferno festival on
facebook
official website
1 event for Inferno Metal Festival
1 Event
Events in

Norway

(1)
INFERNO FESTIVAL 2019 PASS